Ultimate Scheduler: Overview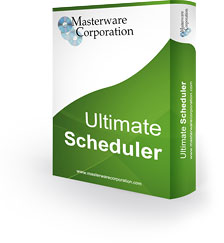 Whether you need to schedule people, meeting rooms, trucks, equipment or any other limited resource, our Ultimate SchedulerTM is the solution you need.
The Ultimate Scheduler features:
See your resources side by side for easy scheduling.
Create a Group and then schedule multiple resources all at once. It is great for that "All Hands Meeting".
Create multiple Schedules, one for people, one for meeting rooms, one for equipment, the options are endless.
You can easily set up your users to have differing rights regarding viewing and editing of resources.
Can be networked for multi-user needs.
Comes in three editions at only $95 for the Lite and Family editions. (click to view Edition Details)
Runs on virtually any Windows based PC
Masterware Corporation
.